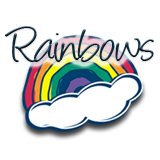 Rainbows Club
Preschool children ages 3 and up
Each Wednesday during the school year, Rainbows Club meets from 7-8:15 pm. Noah's Ark provides an exciting theme for the Bible stories, crafts, full-color activity pages, and games for preschool boys and girls.
Pledge
As a Rainbow, I will be a good helper, pleasing Jesus every day.
Motto
Rainbows are helpers.
Verse
We are...helpers.
(2 Corinthians 1:24)


For more information please contact Pastor Christina
scpatient@gmail.com