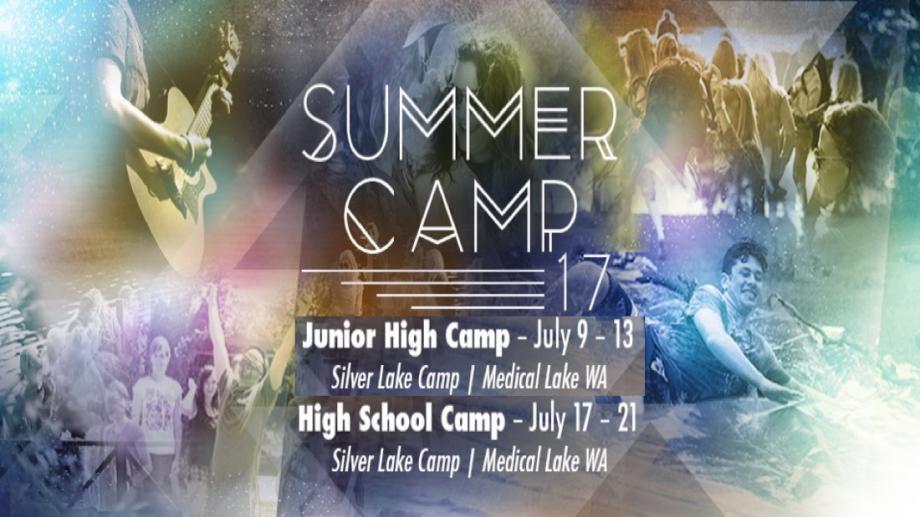 The Lake, your friends, and God moments! Silver Lake Camp is the hottest thing happening this summer! Ever been pulled behind a boat on a tube with your friend sitting next to you? You will here. Ever sat down and talked with a friend while eating all the pizza you could put down? You will here. Ever had a moment where you felt the touch of God on your life? You will here! Silver Lake Camp is crazy, fun and will be the most memorable time of your summer!
Location:
Silver Lake Camp - Medical Lake WA
What to Bring
MARK ALL BELONGINGS: Camp will not be responsible for stolen, lost, or damaged articles remaining on the campgrounds for more than two weeks after the last day of camp.
Bible
Sleeping bag
Pillow
Comfortable clothes
Long pants
Warm jacket and/or sweater
Several changes of underclothes
Appropriate shoes
Towel
Soap
Toothbrush
Toothpaste
Pen and/or pencil
Paper / Journal
Camp appropriate swimsuit
Insect repellent
Flashlight
Medication is not to be kept in the possession of students or leaders for the primary reason of student safety. All medication will be turned in to our camp nurse at check in. Please bring medication and any special instructions in a Ziploc bag labeled with your student's name. This includes, but is not limited to: prescription medication, over the counter medication, vitamins/supplements, ibuprofen, allergy medication etc.
• All medication will need to be in a Ziploc bag labeled with the student's name, and church name. In addition a Medication Form will need to be completed by the parent and enclosed in the Ziploc bag. This bag will need to be turned in at the check in table during registration.
What Not to Bring:
Radio
Boom box
Stereo
TV
Cd player
Mp3 player/iPod /iPad/Zune
Gaming devices
Bikes
Knives
Illegal drugs
Tobacco
Alcohol
Firearms
Fireworks
Inappropriate Clothing:
Ladies: spaghetti strap tank tops, halter tops, sheer tops/bottoms, bikini swimsuits
Tops or bottoms that reveal the stomach, mini- skirts, etc.
Guys: Low rise jeans, Low rise shorts
Both: Clothing with inappropriate images/sayings
Cell Phone Policy:
We believe cell phones can be both a distraction and a tool. Students are permitted to bring phones if they choose and if parents allow it. Suncrest Family Worship Center and Silver Lake Camp are not responsible for lost or damaged cell phones. Students will be permitted to use cell phones for photos and to share what's going on at Summer Camp on social media, but ONLY during the Activity time. If cell phones become a DISTRACTION from what is happening at camp, leaders have been instructed to confiscate them until camp is over. It is our hope that cell phone usage will be utilized in a healthy way.
COSTS:
Jr. High Camp
(Completed Grades 6-8)
- Dates: July 9 - 13 (Sun-Thur)
- Early Registration Deadline: June 15 ($245)
- Final Registration Deadline: July 3 ($265)

High School Camp (Completed Grades 9-12)
- July 17 – 21 (Mon-Fri)
- Early Registration Deadline: June 22 ($245)
- Final Registration Deadline: July 6 ($265)
REGISTRATION:
> Jr. High Camp - Registration has closed
> High School Camp
REGISTER HERE
for High School Camp
If that link doesn't work, please follow these steps:
Visit http://bfi.re/e/437625
Click "Join a Group"
Select the group: Suncrest Family Worship Center
Enter the passcode: join2017
PLEASE REMEMBER:
1) A student is not registered until:
- They register online (using the links above)
- Their parent has completed the 2017 Summer Camp Camper Waiver & Consent Forms by an online signature
- Payment has been submitted to the church by the appropriate deadline
2) Our deadlines above are earlier than the deadlines you will find on the registratioin website. This is beacause we need to A: Submit one check for all students by the deadlines to receive those prices and B) Ensure we have enough adult volunteers for the number of students attending.
3) If needed, the links for 2017 Summer Camp Camper Waiver & Consent Forms are also provided here:
www.nwministry.com/campforms
Looking forward to an amazing summer of camp!
Questions:
Contact Pastor Steve Patient (330) 201-0947 (stevenpatient@gmail.com)